! Change log> <!10.00: Added Amiga and XEGS. Jan 22/98> <!10.10: Fixed misnamed cart. Jan 25/98> <!10.20: Added some carts Feb 02/99> <!10.30: Added a cart Feb 11/99> <!10.40: Added a cart Feb 12/99> <!11.00: Took page offline Feb 03/2007>

<!heading>
---

<!td width=10%>
My Obsolete Computer & Video Game List
Obsolete? That's a matter of opinion!
---
I've taken these pages offline temporarily while I do a major revamp. Expected return: Summer, 2007. All buttons and menus have been turned off until that time. Sorry!
---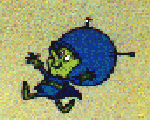 Written: Jan 08, 1998
This is version 11.00 updated: Feb 03,2007
Comments to author: Andrew Gurudata guru@vex.net
Mississauga, Ontario, Canada
Click on Gazoo to return to my home page.



---